Hand blown glass pumpkins and squash
Cohn-Stone Studios hand blown Glass Pumpkins and Squash are the artistic originals — their award winning design was first introduced in 1990. These innovative forerunners, maintain a quality of craftsmanship and originality that is widely acclaimed as the finest available today. The "Organically Blown" California Glass Pumpkins and Squash are the most sought after in the collectible marketplace — featured in numerous museums, galleries and catalogs, and exhibited in large scale fantastical displays at major botanical gardens throughout the country.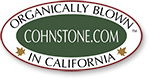 "The summer of 1990 was foggy and cool. No pumpkins grew in the garden that year, but the vines produced gigantic leaves. We decided to make the pumpkins in glass — the garden became enchanted!"
Michael and Molly have been making hand blown Glass Pumpkins ever since, exaggerating nature's colors and forms to create unique works of art. The exotic forms of the Glass Pumpkins and Squash range in size from a few inches in diameter to dramatic giants 14" across. Each piece is completely hand crafted and finished. The studio's signature gold luster glass stems exquisitely twist and twine over multi-colored glasses. Mottled color textures and subtle color fades are distinctive to Cohn-Stone Studios trademark art glass design features. Each piece is signed and dated by the artists.
Ruby & Gold Collection
The jewel tone colors fade in subtle transition from vibrant red into oranges and yellows.
Ruby & Gold Collection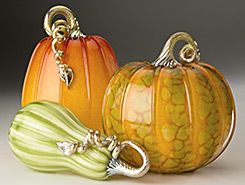 Forest Mottled Collection
Earthy colors blend together creating exotic and complex patterns within the glass.
Forest Mottled Collection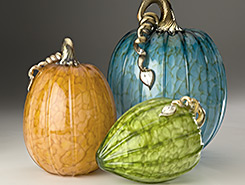 Spring Collection
Fantasy colors of pink, purples, blues, turquoise, celadon and rose.
Spring Collection
The Glass Pumpkin Patch & Art Garden
The Studio's own Fall Glass Pumpkin Patch and Art Garden displays hundreds of glass pieces in a unique garden setting. It is a long standing yearly event drawing glass collectors and horticultural enthusiasts from around the world to view and purchase new glass collections introduced yearly at the studio garden event.
Four weekends in October — 22nd Annual Glass Pumpkin Patch
Sign-up for our Newsletter to receive an invitation to our Studio Events.